REVIVE


Brightening Antioxidant
Face Oil Serum

71,77 €

For all skin types

30 ml / 1 fl.oz. - Lasts 3 to 6 months in daily use

WITH 


wild picked lady's mantle, raspberry, sea buckthorn, cranberry and organically self-grown calendula & cornflower.

 

REVIVE Brightening Antioxidant Face Oil Serum is a necessary choice for skin that is missing its natural glow. REVIVE is a luxurious skin reviving face oil formulated with carefully curated, wildcrafted blend of Arctic wild herbs high in antioxidants, vitamins, and minerals. Infused in organic sunflower oil over the course of six weeks, these herbs gently release their powerful nutrients into our formula.

Blended with non-comedogenic, high quality Arctic berry seed oils creating high-performance and truly effective skin-illuminating botanical facial oil serum for all skin types, especially for tired and lifeless skin to tackle dark spots, dryness, dullness, pigmentation, redness and fine-lines.

100% natural, vegan & cruelty-free
Brightens the complexion
Reduces pigmentation and age spots
Stimulates collagen production
Evens skin tone & protects skin from free radicals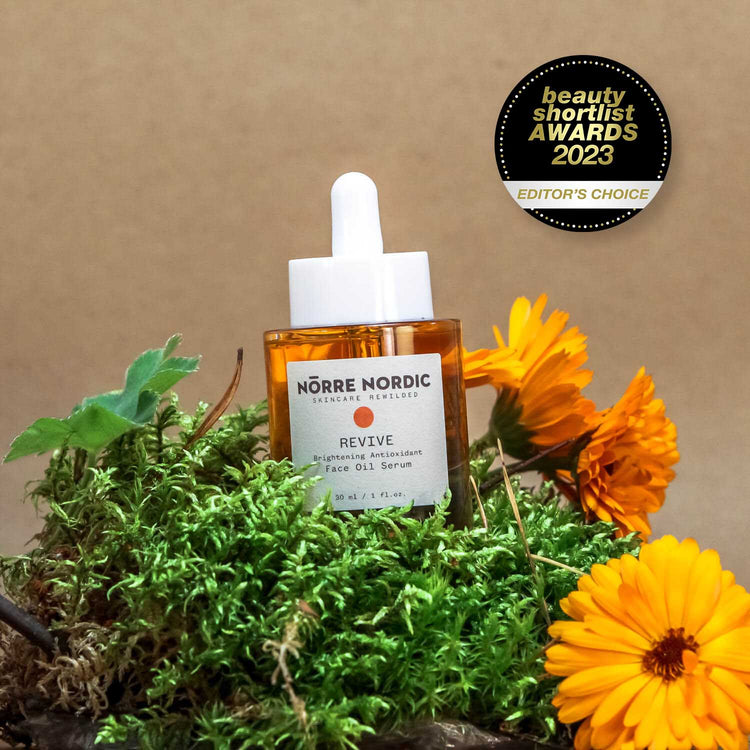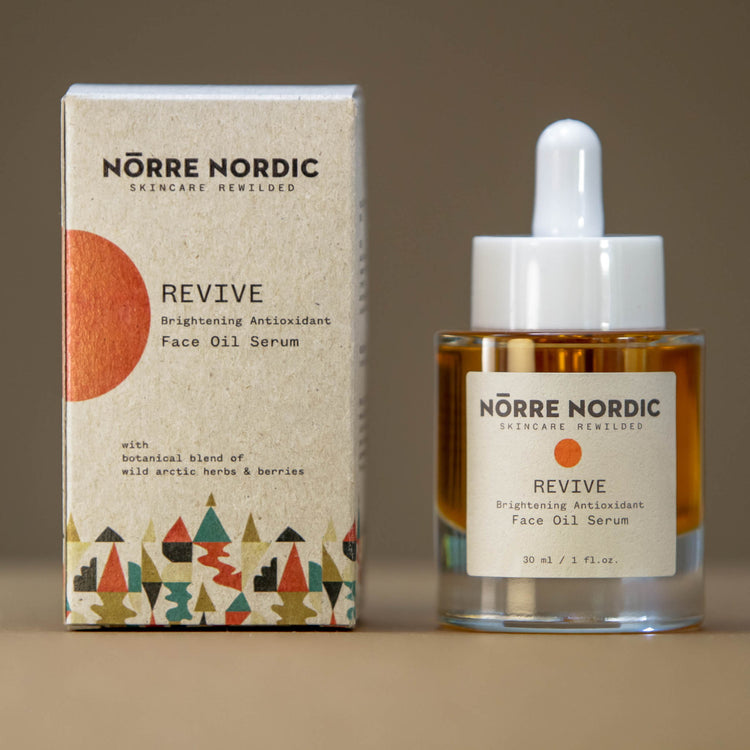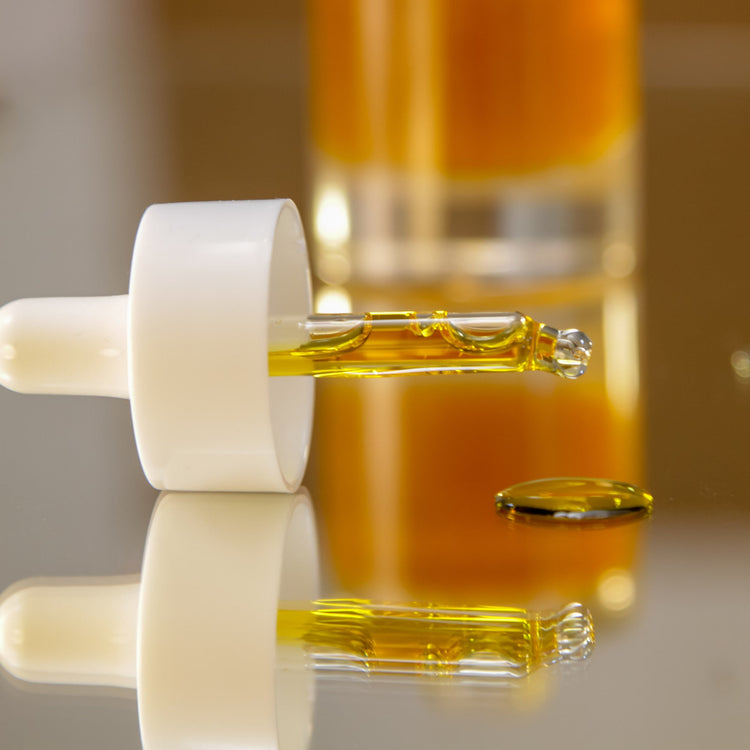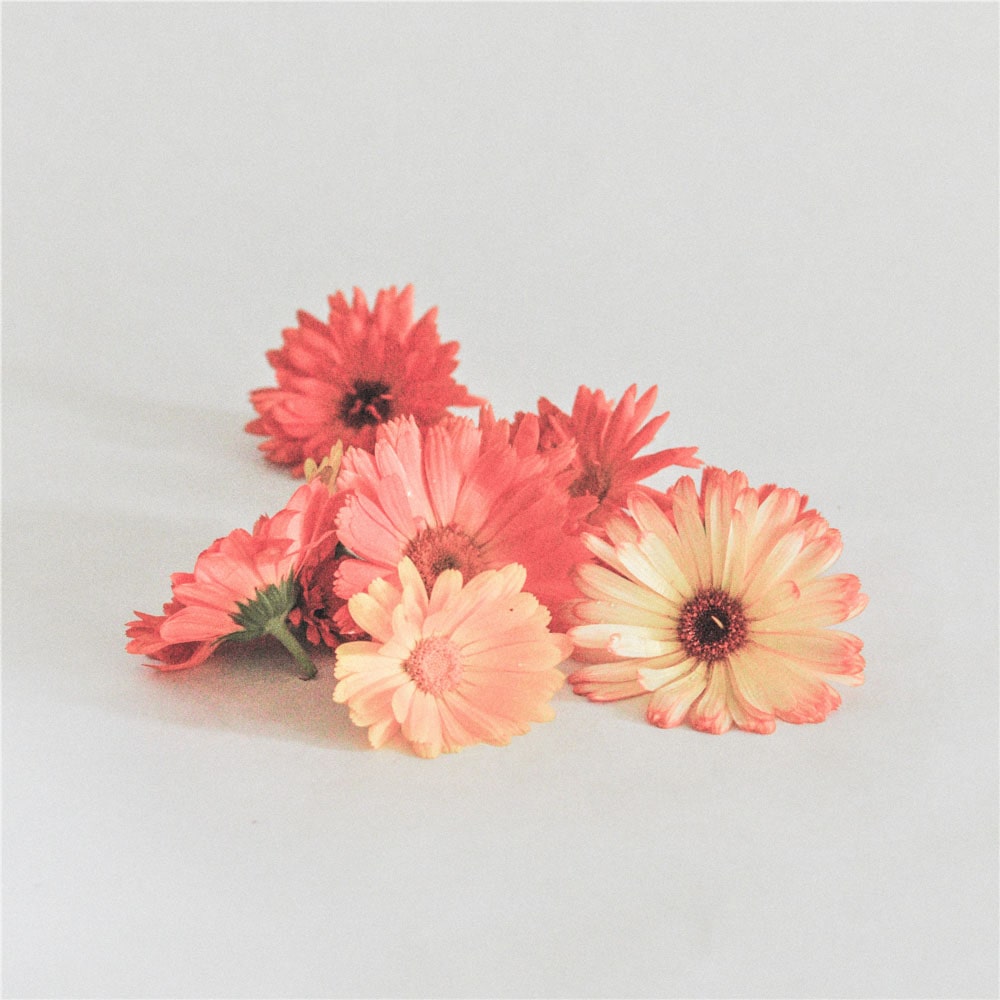 Self-grown calendula
In addition to its tremendous skin healing properties, deep orange calendula flowers provide incredible antioxidant protection. High in carotenoids that target fine-lines and bring natural and healthy glow onto the skin. Calendula is also very rich in vitamin E, which has great skin softening properties.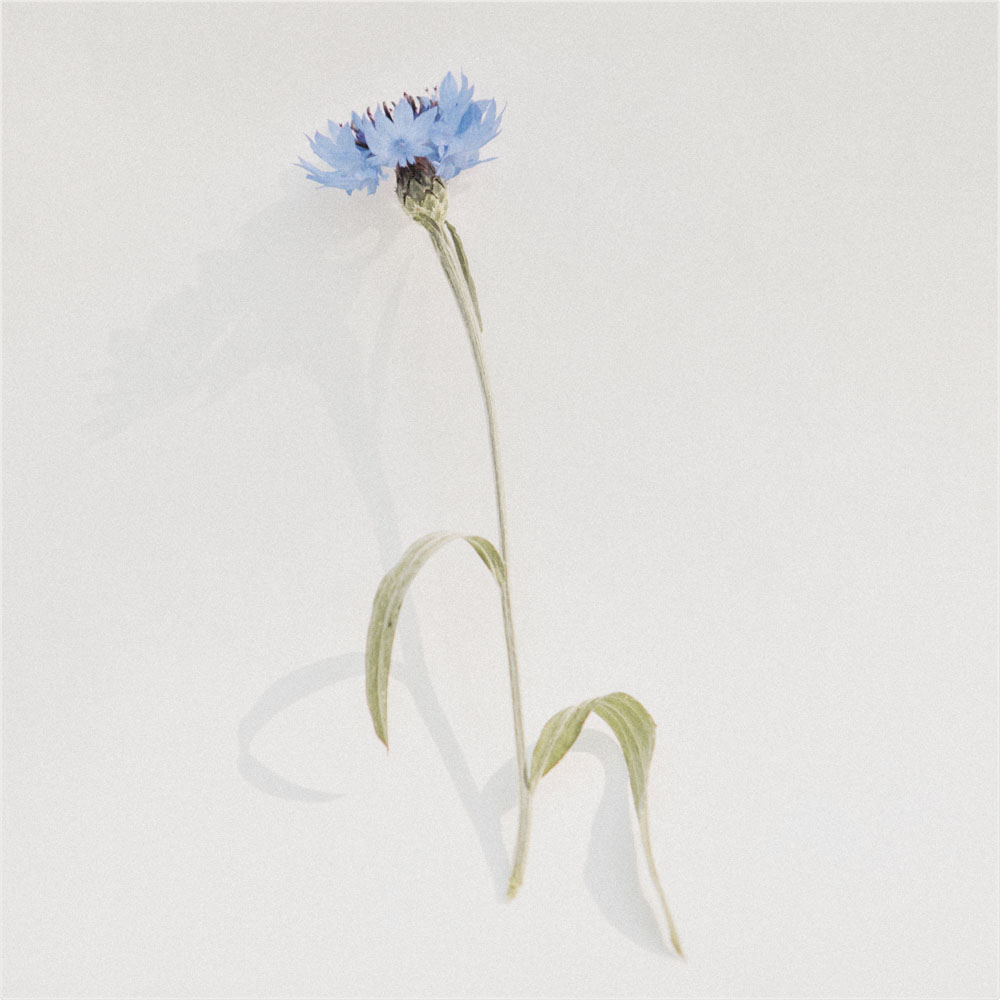 Self-grown cornflower
Cornflower has a tonic and biostimulating effect. It relieves puffiness, and soothes and stimulates skin regeneration. Cornflower is a natural astringent that works to tone, lighten and brighten the skin. It tightens the skin and promotes blood circulation.
Wild lady's mantle
Lady's mantle has great nourishing, astringent and skin clearing properties. It also reduces skin puffiness, and reduces the appearance of redness. The antioxidants in the herb help to get rid of free radicals and ensure skin's elasticity is maintained for a long time.
Wild raspberry leaf
Raspberry leaf has strong healing and protecting properties. It helps to reduce redness and heal skin conditions. The leaves also act as an astringent by tightening the top layers of the skin. The anti-inflammatory properties of raspberry leaves can relieve irritated skin conditions and improve tissue firmness.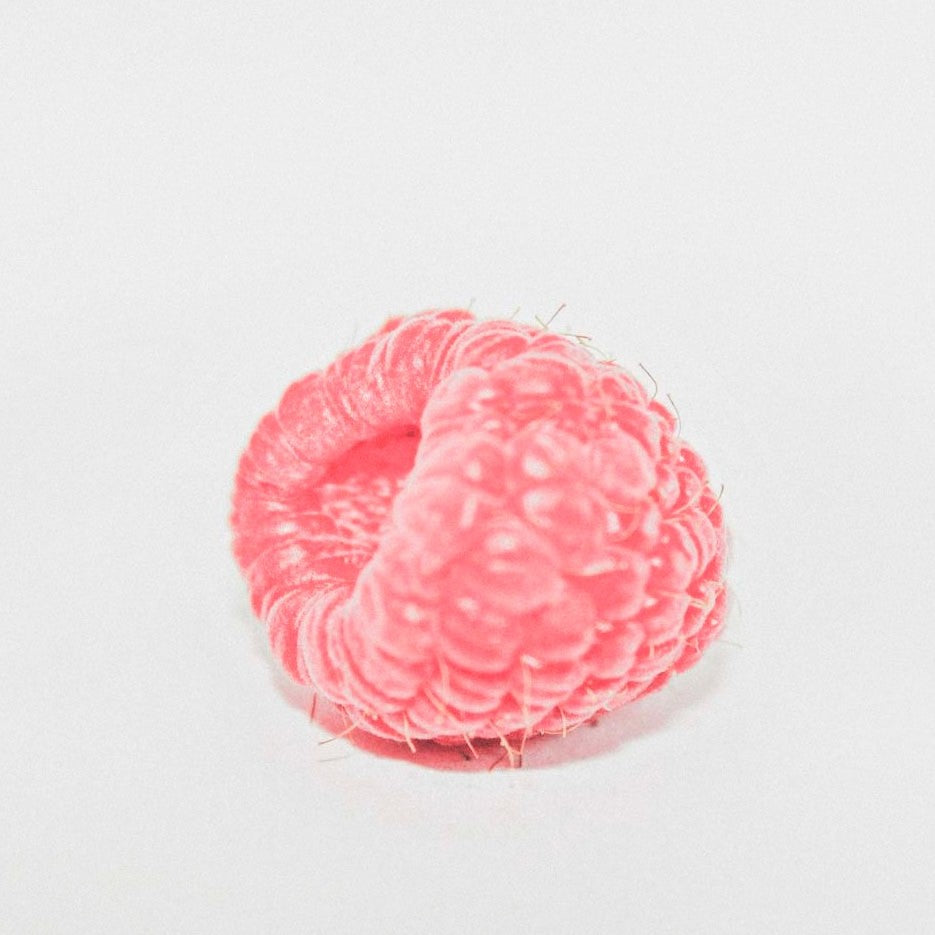 Arctic raspberry seed oil
Raspberries have a 50% higher antioxidant activity than strawberries, three times that of kiwis, and ten times that of tomatoes. Raspberry seed oil is high in vitamin E, vitamin A, ellagic acid, and omega fatty acids-3 and -6. These high levels of antioxidants and essential fatty acids make raspberry seed oil effective for fighting oxidative stress and reduce inflammation. Vitamin A and E encourage healthy skin cell regeneration and growth and stimulate collagen production and slow the skin aging process.
Cranberry seed oil
Cranberry oil is high in antioxidants and balanced blend of fatty acids, making it an extremely powerful companion for our reviving facial oil. This Arctic super berry possesses even more antioxidants than spinach, broccoli, apple, and strawberry. Due to the high antioxidant content, this multi-beneficial oil also has brightening properties, making it a great choice for dull skin that's missing that healthy glow. These antioxidants also help maintain an even toned complexion by contributing to sun protection and preventing photo damage.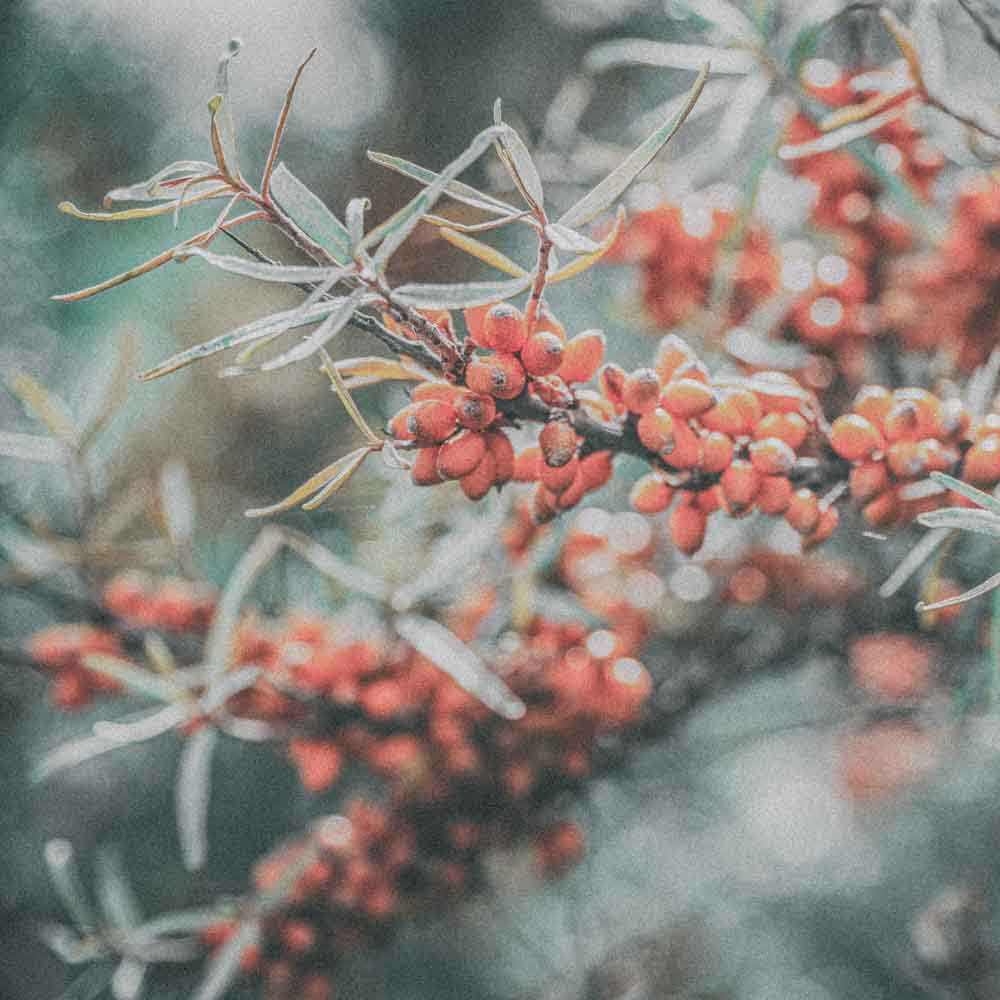 Arctic sea buckthorn oil
Highly effective vibrant and deep orange colored sea buckthorn oil is non-greasy, dry oil which absorbs into the skin rapidly. Rich in vitamin C, vitamin A, both alpha- and beta-carotene, vitamins B1, B2, and B6, vitamin E, fatty acids and flavonoids, Omega 3, 6, 9 and rarest Omega 7 and about 190 bioactive compounds. Extremely high in antioxidants, sea buckthorn is effective for targeting fine-lines and premature skin ageing. This Arctic oil brings moisture and elasticity to the skin. Sea buckthorn oil promotes cellular renewal and increases brightness, making the skin glow.
Rosehip oil
Rosehip oil is high in vitamins A and C. Vitamin A, or retinol, encourages skin cell turnover. Vitamin C also aids in cell regeneration, boosting overall radiance. Both Vitamin C and A are necessary for the production of collagen. Collagen is the building block of skin and it's essential for skin elasticity and firmness. Rosehip oil also contains both lycopene and beta carotene. These compounds have skin-brightening properties making the skin glow.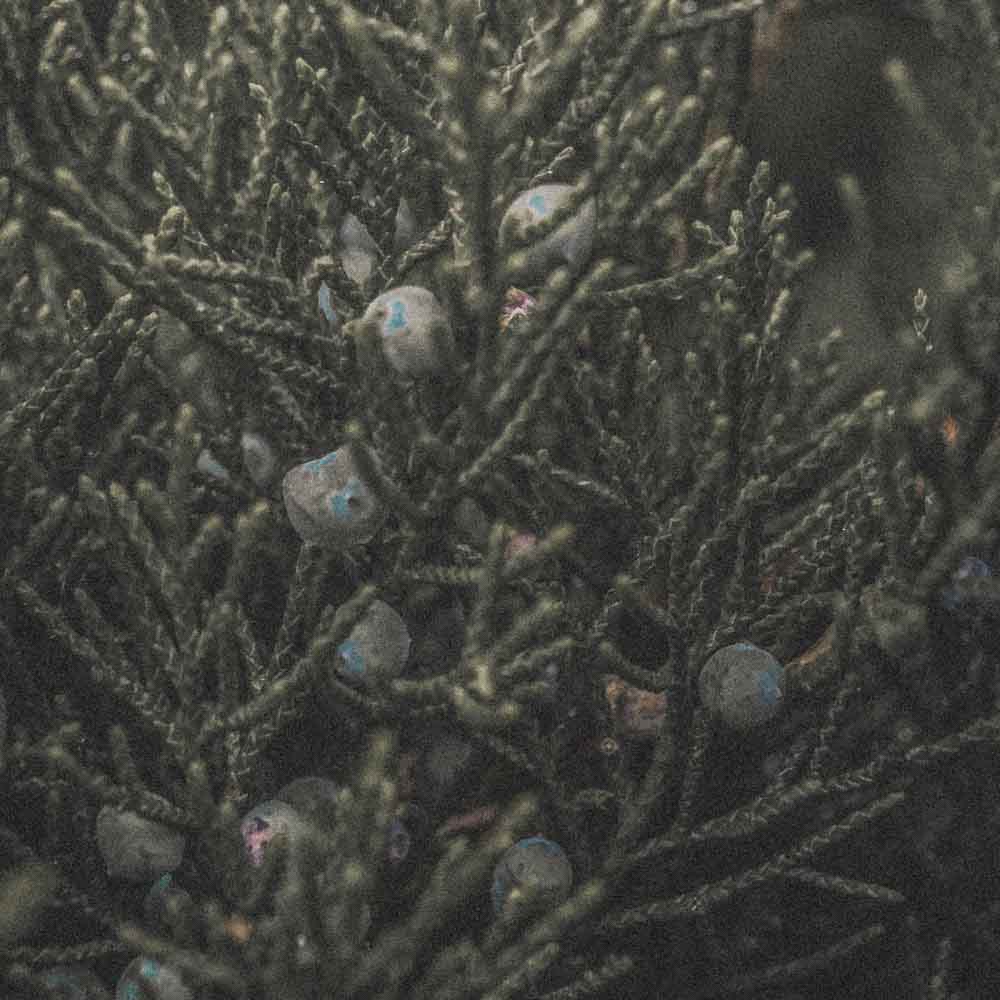 Juniper berry oil
Juniper berry oil has detoxifying, antioxidant and immune-boosting properties making it a natural skin healer. It works to repair and strengthen the epidermis, allowing it to defend itself from impurities that can damage the skin and cause premature ageing.
How are our face oil serums made?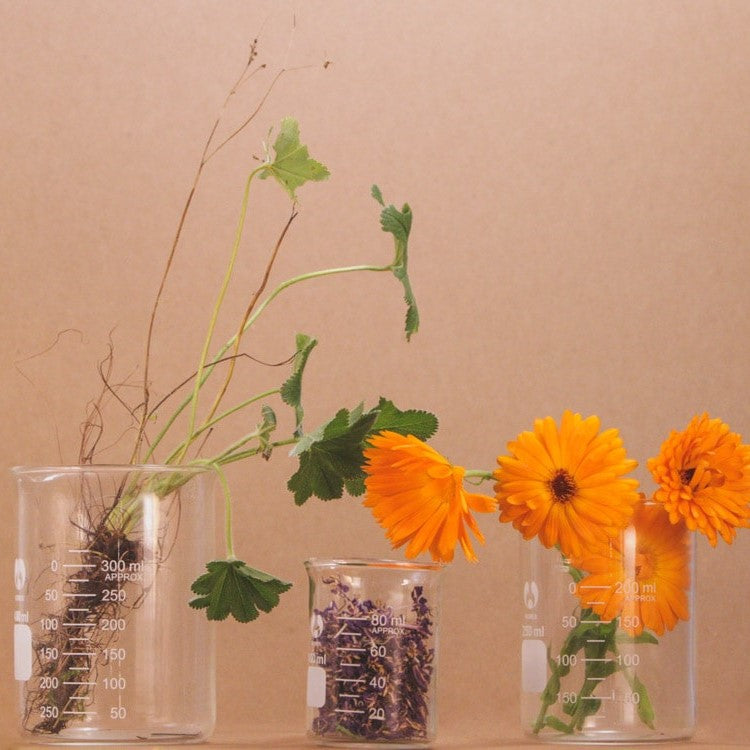 Methodically solving skin issues - one ingredient at a time
The science behind the herbs lies within our ancestors' wisdom of herbal tradition used hundreds of years before us. We methodically combine different ingredients to get the most powerful botanical blend to target different skin issues.
Gathering the most nutrient rich herbs and medicinal plants
In Arctic Finland, the most nutrient rich plants and herbs grow naturally in the wild. Every summer we roam the forests picking these precious ingredients, drying them gently and quickly thus preserving every precious nutrient they have to offer.
We also have our own micro-farm where we organically grow Arctic medicinal plants for our products.
Maximizing nutrients and antioxidants
To maximize all the benefits and nutrients of the world's most antioxidant-rich plants and herbs, our infusion process lasts not only one or two - but six weeks.
Our nutrient-rich infused oils are then blended with the most powerful CO2-extracted Arctic berry seed oils from Finnish Lapland, giving Nörre Nordic Face Oils their powerful ability of solving skin issues.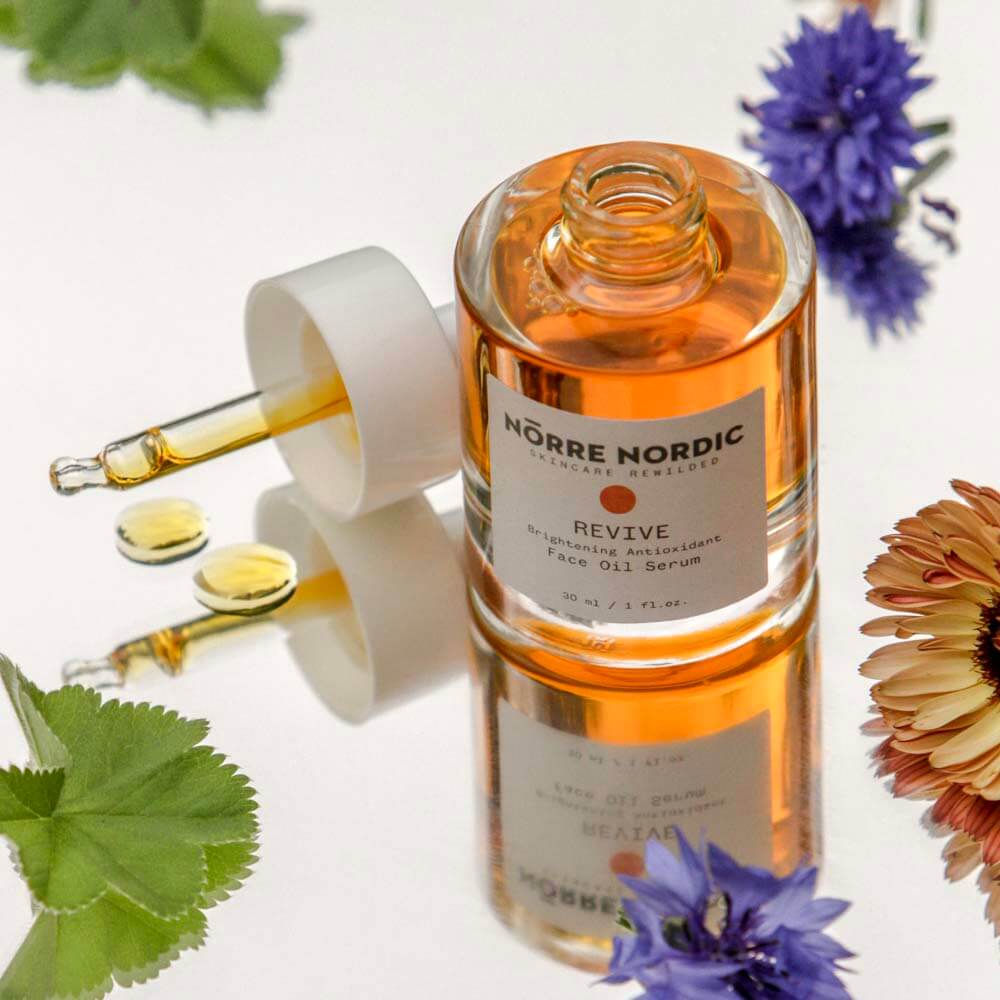 Regenerating
Promotes skin's natural regeneration by stimulating collagen production.
Revitalizing
Promotes cellular renewal and increases brightness by tightening pores and reducing redness and puffiness making your skin glow.
Nourishing
Loaded with skin-nourishing vitamins, antioxidants and essential fatty acids that are integral for tissue and cell regeneration in the skin. Reduces transepidermal water loss, helping skin retain hydration and moisture.
Brightening
High in carotenoids that target fine-lines, pigmentation, scars, and age-spots by protecting and giving the skin a healthy beautiful glow.
Protecting
Powerful to protect skin against free-radicals, pollutants and photoaging caused by sunlight due to high antioxidant levels.
Anti-ageing
With Vitamin A and C, antioxidants, carotenoids and essential fatty acids REVIVE Face Oil has intense moisturizing ability to help smooth fine-lines for a more hydrated, youthful appearance.
Non-comedogenic
High in linoleic acid and therefore does not clog pores.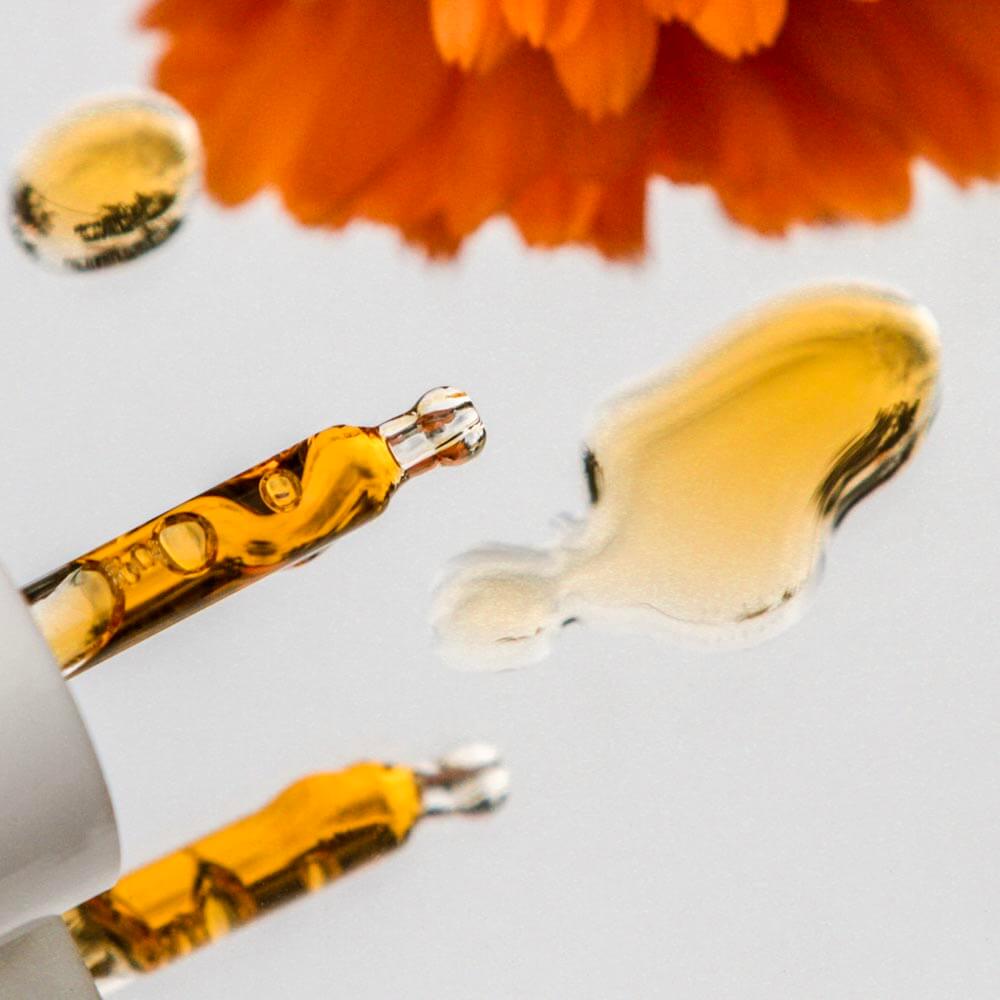 WHEN
Day and/or night all year round.
After cleansing and toning your face.
DOSAGE
3-6 drops
DIRECTIONS
Warm a few drops of face oil serum in your palms and massage onto damp skin until fully absorbed.
Always apply a facial oil as the last step in your skincare routine or mix a few drops with your favorite face cream/lotion.
Lightweight and fast absorbing, our facial oil wears beautifully under makeup; allow 3-5 minutes for the product to absorb before applying.
CAUTIONS
Do not use if you are allergic to Asteraceae (Compositae) plants or any of the ingredients used. Avoid contact with eyes. External use only. If irritation occurs, discontinue use.
Keep in a cool, dry place and out of sunlight.
As a handmade product, color may vary from batch to batch. Product may contain small amounts of sediment from cold-pressed, CO2-extracted oils and plant materials which is perfectly normal. If so, just shake the bottle and continue using.
Usage & Effect
| | |
| --- | --- |
| Scent | Mild forestry scent comes from natural & organic juniper berry essential oil. |
| Effect | Regenerating, brightening, anti-ageing, nourishing, protecting, revitalizing, reviving, non-comedogenic, lightweight, fast absorbing |
| Usage | Dull & lifeless skin, rough skin, fine-lines, dark spots, scars, dryness, redness, hyperpigmentation |
| How to Use | Drop 3-6 drops into your palm and massage in a circular motion to cleansed and damp face and neck. Use day and/or night, all year round. |
Product Information
| | |
| --- | --- |
| Product size | 30 ml / 1 oz |
| Country of origin | Handmade in Finland |
| Ingredients | **Calendula Officinalis (Calendula) Flower Extract / *Alchemilla Vulgaris (Wild Lady's Mantle) Extract / **Centaurea Cyanus (Cornflower) Flower Extract / *Rubus Idaeus (Wild Raspberry) Leaf Extract in *Helianthus Annuus (Sunflower) Seed Oil, Rubus Idaeus (Raspberry) Seed Oil, Vaccinium Macrocarpon (Cranberry) Seed Oil, *Rosa Canina (Rosehip) Seed Oil, Hippophae Rhamnoides (Sea Buckthorn) Oil, Tocopherol (Vitamin E), Rosmarinus Officinalis (Rosemary) Leaf Extract, *Juniperus Communis (Juniper Berry) Fruit Oil, ***Limonene *Wildcrafted or Certified Organic **Self-grown ***Naturally occurring component in essential oil |
| YES | Natural, organic, vegan, cruelty free, wildcrafted arctic plants, handmade, antioxidants |
| NO | Mineral oil, preservative, alcohol, parabens, phthalates, sulfates, silicones, colorants/perfumes, microplastic/microparticles, nano zinc oxide, and GMO. |
REVIVE Brightening Antioxidant Face Oil Serum
Another Bottle of Revive
I bought another bottle of Revive and I truly think it is the best cosmetic profuct I have ever used. It works wonders.
Todella hyvä kasvoöljy
Paras öljy mitä olen tähän mennessä kokeillut. Pintakuivalle iholle nappivalinta. Iho näyttää terveen hehkuvalta jo heti käytön jälkeen. Tuntuu iholla laadukkaalta ja ylelliseltä, imeytyy ja levittyy erinomaisesti. Tykkään!
Loved it!
I've been using REVIVE a couple of weeks now and I absolutely love it! The oil serum soaks in rapidly and leaves my skin glowy and healthy. My skin looks and feels stronger, moisturized, vibrant, younger, healthier coloured and my pores have tightened. REVIVE didn't cause any breakouts or blemishes. Positive changes started to show in just a couple of days. After about a week, I realized my large pores were tighter. I can highly recommend REVIVE to all skin types but especially for aging and dull skin to tackle fine lines and large pores.
I'm in love with this serum
This is the best thing I have done to my skin. REVIVE is all my skin has been missing and the best thing is that it's all natural and free of toxins! Thanks for very fast shipping and amazing customer service also!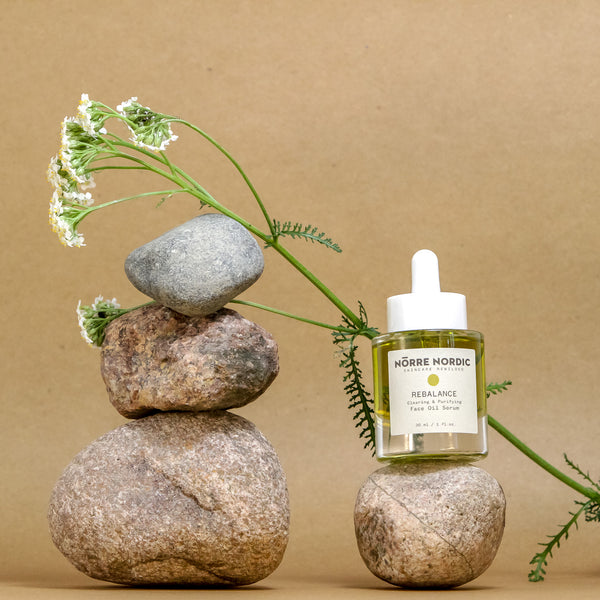 For oily, acne-prone and combination skin
71,77 €
View Product
For sensitive, irritated and dry skin
71,77 €
View Product