REBALANCE


Clearing & Purifying
Face Oil Serum

71,77 €

For oily, acne-prone and combination skin

30 ml / 1 fl.oz. - Lasts 3 to 6 months in daily use

WITH

wild picked meadowsweet, fireweed, birch leaf & nettle blended with yarrow, rosehip, blackcurrant and raspberry seed oils.

 

REBALANCE Clearing & Purifying Face Oil Serum is a luxurious skin balancing face oil formulated with carefully chosen, wildcrafted blend of Arctic wild herbs high in compounds fighting against impurities. Infused in organic sunflower oil over the course of six weeks, these herbs gently release their powerful nutrients into our formula.

Blended with non-comedogenic, high quality Arctic berry seed oils and squalane creating high-performance and result-driven skin balancing botanical facial oil serum targeted especially to acne-prone, oily and combination skin types to reduce & prevent breakouts, minimize pores and balance skin's natural oil production.

100% natural, vegan & cruelty-free
Promotes skin's overall clarity
Balances sebum & bacteria production
Tightens large pores
Prevents breakouts & blemishing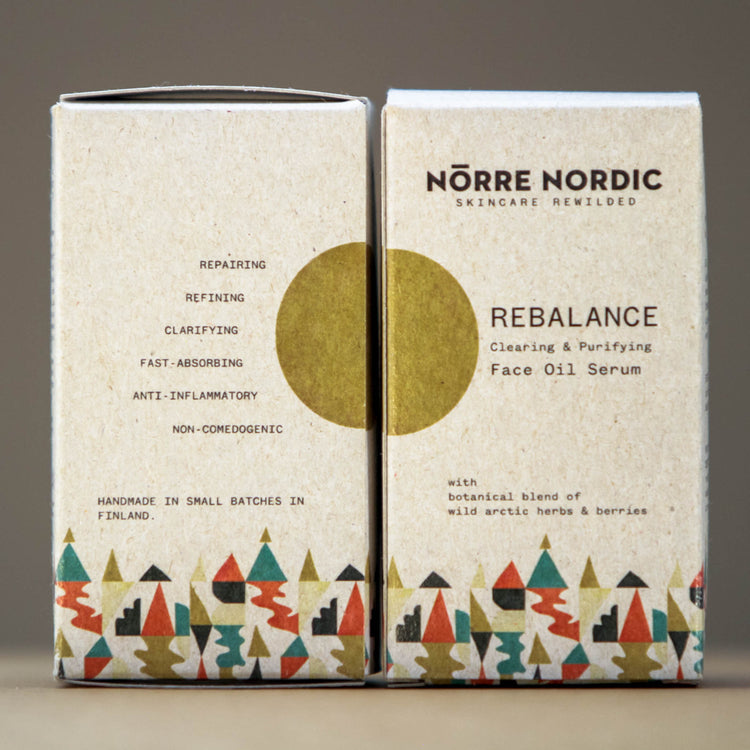 Wild meadowsweet
Meadowsweet contains salicylic acid which is a natural exfoliator and acts as an anti-inflammatory on skin reducing redness, itchiness, and impurities on blemish-prone skin. As a natural astringent, meadowsweet is useful to tone and tighten the skin. It also inhibits an enzyme in skin, 5-alpha reductase, that can trigger excess oil production. Therefore, meadowsweet has a noticeable effect on skin's surface oil for those struggling with oily skin.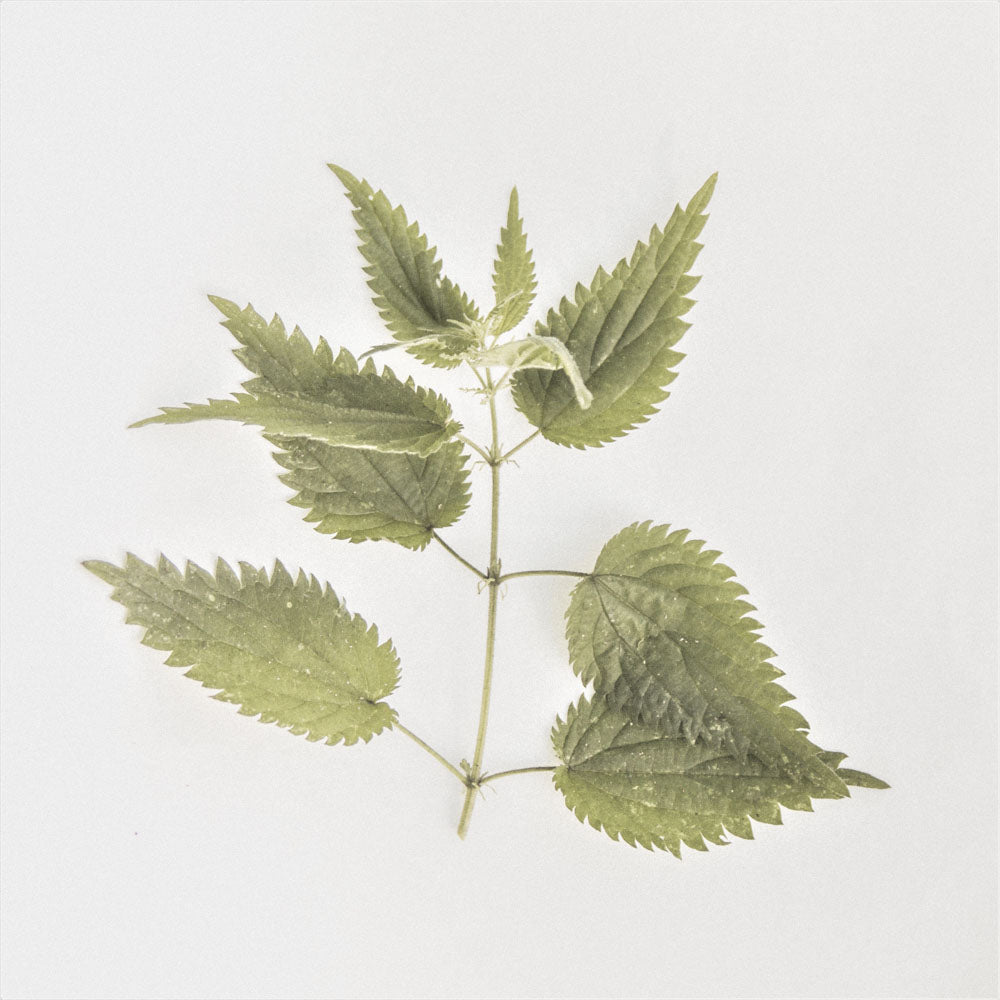 Wild nettle
Mineral rich nettle acts as natural astringent, tightens and firms the skin, regulates natural sebum production, treats acne and promotes flawless skin. It also accelerates the healing process of wounds. Thanks to silicium and magnesium, it also has beneficial anti-aging properties. It also has anti-inflammatory and antibacterial properties.
Wild fireweed
Fireweed is anti-inflammatory, anti-bacterial and full of Vitamin C. As a natural astringent, fireweed is perfect for oily and mixed skin types.
Wild birch leaf
Birch leaves contain salicylate, the natural pain reliever, the compound found in aspirin. Salicylate relieves the inflammation of blemish-prone skin. As a natural astringent, birch leaves tighten pores making it perfect for oily skin.
Yarrow
Yarrow is an absolute must-try for those with oily or combination skin. This natural astringent can knock back the breakouts, balance your complexion, calm inflammation, and even reduce acne scars. We use it to help balance and control skin that is prone to excess oil and blemishes, and keeping the skin free from bacteria that can lead to breakouts.
Arctic blackcurrant seed oil
Arctic super berry blackcurrant has approximately four times more Vitamin C than oranges. Black currant oil is full of antioxidants, and it has anti-inflammatory and antibacterial properties. GLA, omega-6 fatty acid found in blackcurrant seed oil helps with controlling breakouts and alleviating the symptoms of acne, by reducing inflammation and skin redness.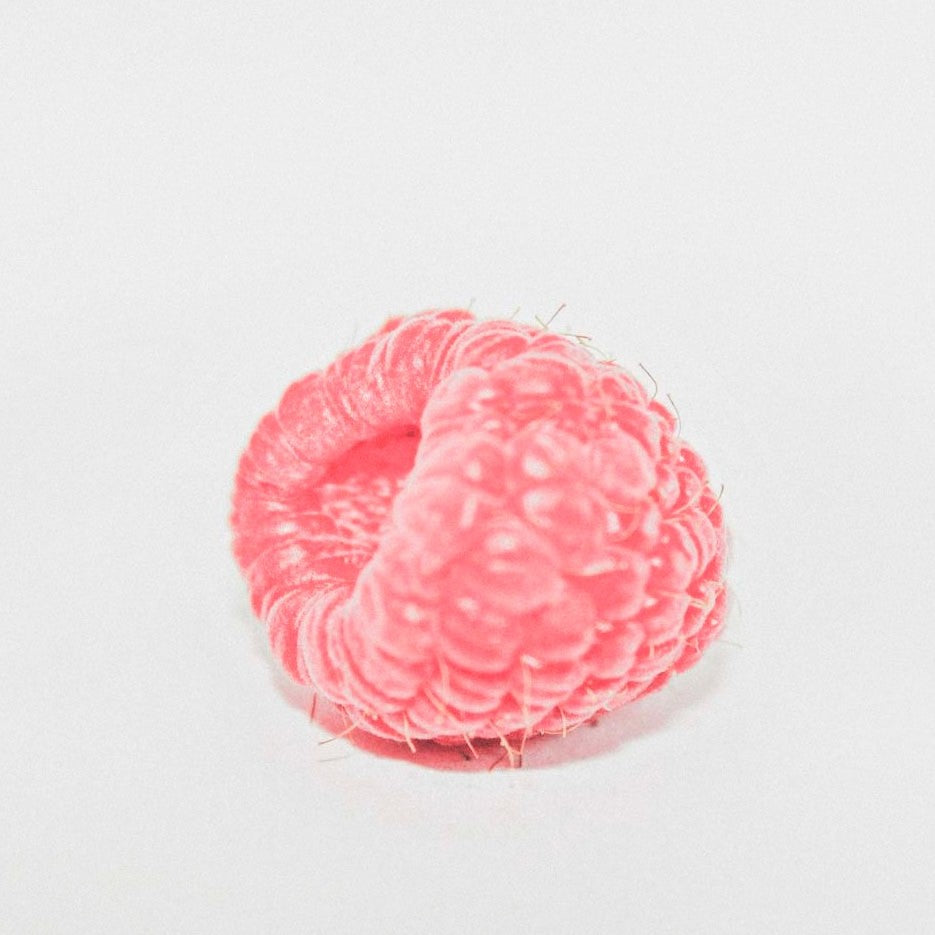 Arctic raspberry seed oil
Raspberries have a 50% higher antioxidant activity than strawberries, three times that of kiwis, and ten times that of tomatoes. Raspberry seed oil is an anti-inflammatory skin healer as it boasts the highest content of any fruit seed for alpha linolenic acid, which is an anti-inflammatory agent. It also has some phytosterols and high levels of omega-3 and -6 fatty acids which are helpful for inflamed skin issues like acne.
Rosehip oil
Our organic rosehip oil is a dry, or non-greasy oil loaded with skin-nourishing vitamins, antioxidants and essential fatty acids, including linoleic and linolenic acid, which are integral for tissue and cell regeneration in the skin. It's no wonder that the oil has long been used as a folk remedy for wound healing, as well as the reduction of scars and fine lines. Rosehip oil also contains both lycopene and beta carotene. These compounds have skin-brightening properties making rosehip oil helpful for clearing scars and hyperpigmentation.
Squalane
Squalane is a non-comedogenic oil which balances skin's oil production. It has antioxidant, anti-ageing and anti-inflammatory properties making it necessary for oily and blemish-prone skin types. Anti-inflammatory benefits reduce redness and swelling, and help with skin conditions such as acne.
How are our face oil serums made?
Methodically solving skin issues - one ingredient at a time
The science behind the herbs lies within our ancestors' wisdom of herbal tradition used hundreds of years before us. We methodically combine different ingredients to get the most powerful botanical blend to target different skin issues.
Gathering the most nutrient rich herbs and medicinal plants
In Arctic Finland, the most nutrient rich plants and herbs grow naturally in the wild. Every summer we roam the forests picking these precious ingredients, drying them gently and quickly thus preserving every precious nutrient they have to offer.
We also have our own micro-farm where we organically grow Arctic medicinal plants for our products.
Maximizing nutrients and antioxidants
To maximize all the benefits and nutrients of the world's most antioxidant-rich plants and herbs, our infusion process lasts not only one or two - but six weeks.
Our nutrient-rich infused oils are then blended with the most powerful CO2-extracted Arctic berry seed oils from Finnish Lapland, giving Nörre Nordic Face Oils their powerful ability of solving skin issues.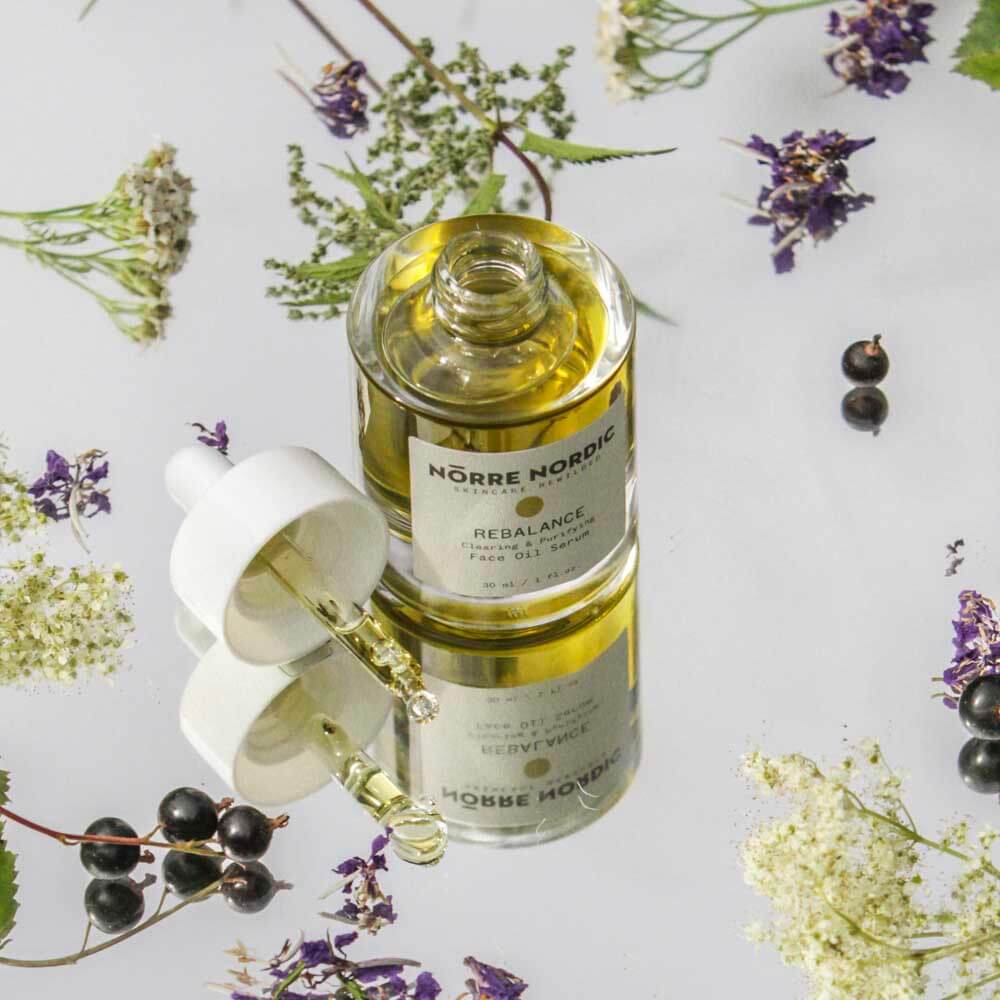 Repairing
Aids in healing broken capillaries, and is ideal for problematic skin.
Refining
Works as a natural astringent, meaning the oil tightens large pores making it perfect for oily skin.
Clarifying & Purifying
Strong skin balancing properties such as anti-inflammatory, tightening, toning and astringent properties making it great when treating blemishes, redness, irritation, breakouts and excess oil production.
Fast absorbing
Combination of four lightweight oils that does not leave greasy residue.
Anti-inflammatory
Relieves the inflammation of blemish-prone skin, reduces redness and evens skin tone.
Non-comedogenic
Does not clog pores due to high linoleic acid content. Balances oil production, and reduces and prevents acne breakouts.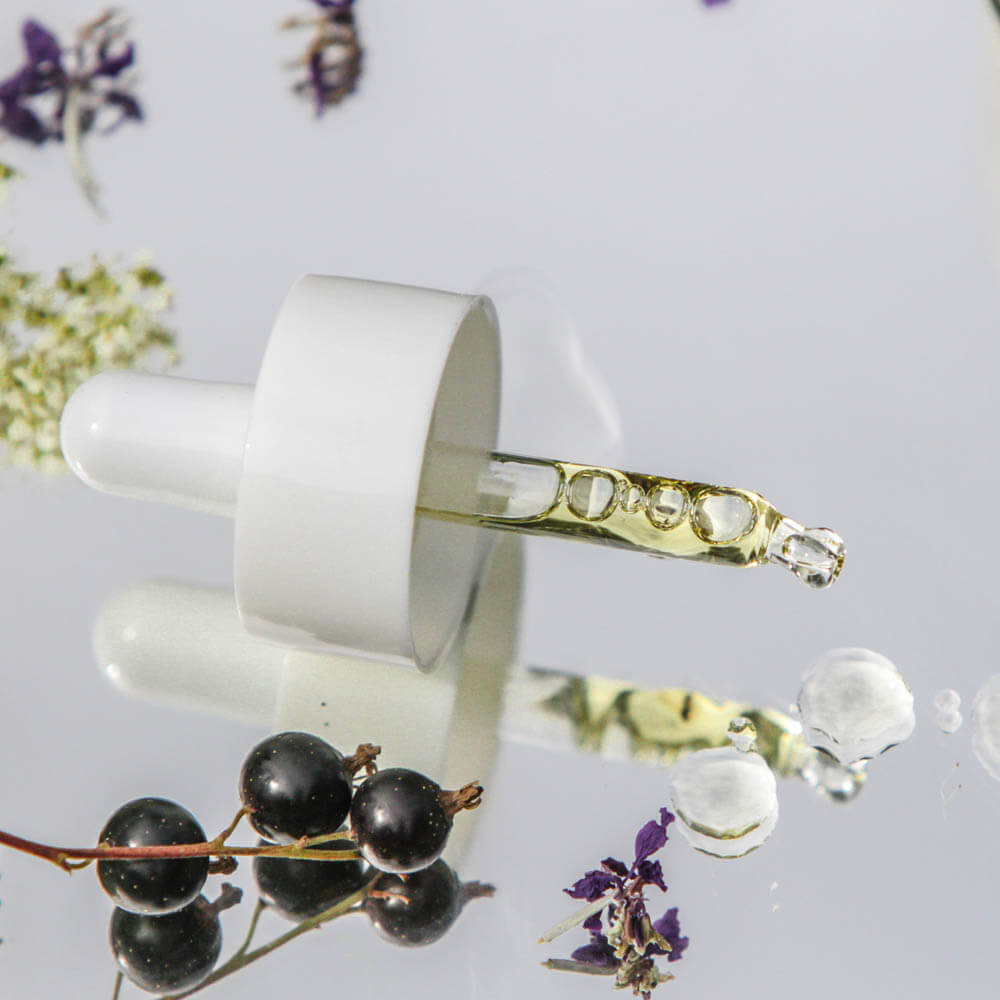 WHEN
Day and/or night all year round.
After cleansing and toning your face.
DOSAGE
3-6 drops
DIRECTIONS
Warm a few drops of face oil serum in your palms and massage onto damp skin until fully absorbed.
Always apply a facial oil as the last step in your skincare routine or mix a few drops with your favorite face cream/lotion.
Lightweight and fast absorbing, our facial oil wears beautifully under makeup; allow 3-5 minutes for the product to absorb before applying.
CAUTIONS
Do not use if you are allergic to Asteraceae (Compositae) plants or any of the ingredients used. Avoid contact with eyes. External use only. If irritation occurs, discontinue use.
Keep in a cool, dry place and out of sunlight.
As a handmade product, color may vary from batch to batch. Product may contain small amounts of sediment from cold-pressed, CO2-extracted oils and plant materials which is perfectly normal. If so, just shake the bottle and continue using.
Usage & Effect
| | |
| --- | --- |
| Scent | Mild forestry scent comes from natural & organic fir needle and yarrow essential oils. |
| Effect | Balancing, clarifying, non-comedogenic, repairing, refining, purifying, anti-inflammatory, fast absorbing, lightweight |
| Usage | Acne, blemishes, blackheads, scars, redness, excess oil and sebum production, large pores, breakouts, mixed skin |
| How to Use | Drop 3-6 drops into your palm and massage in a circular motion to cleansed and damp face and neck. Use day and/or night, all year round. |
Product Information
| | |
| --- | --- |
| Product size | 30 ml / 1 oz |
| Country of origin | Handmade in Finland |
| Ingredients | *Spiraea Ulmaria (Wild Meadowsweet) Flower Extract / *Epilobium Angustifolium (Wild Fireweed) Flower Extract / *Betula Alba (Wild Birch Leaf) Leaf Extract / *Urtica Dioica (Wild Nettle) Extract in *Helianthus Annuus (Sunflower) Seed Oil, Squalane (Olive), *Rosa Canina (Rosehip) Seed Oil, Ribus Nigrum (Blackcurrant) Seed Oil, *Rubus Idaeus (Raspberry) Seed Oil, Tocopherol (Vitamin E), Rosmarinus Officinalis (Rosemary) Leaf Extract, Abies Sibirica (Fir Needle) Oil, *Achillea Millefolium (Yarrow) Oil, **Limonene *Wildcrafted or Certified Organic **Naturally occurring component in essential oil |
| YES | Natural, organic, vegan, cruelty free, wildcrafted arctic plants, handmade |
| NO | Mineral oil, preservative, alcohol, parabens, phthalates, sulfates, silicones, colorants/perfumes, microplastic/microparticles, nano zinc oxide, and GMO. |
Fantastic Face Serum
My skin has been very dry and dull till using this, it has made such a difference. I love it
Will buy again
Very light and easy absorbing. Works amazingly well on my combination skin with lots of impurities. My skin feels amazing and looks clear!
Perfect for my oily skin
At first I was worried if this oil serum would make my skin even oilier and to breakout more but oh boy I couldn't be more wrong! My skin went instantly calmer after using the serum just a few times. REBALANCE does not leave your skin oily or greasy. Instead it soaks in fast. This product has balanced my oily skin and I don't have to wipe out excessive oil from my face anymore. This also does the trick with pimples as I don't get breakouts so often anymore. Worth every cent!
My skin has never been so bright and clear
REBALANCE smells like forest and nature and I love it! I've been using REBALANCE day and night a couple of weeks now for face massage, blended or after with my face cream. You only need to use two to three drops to get the benefits, so this is really worth the investment! The oil is not greasy and it soaks in very fast. The biggest improvement I noticed after I used it at night. My skin has never looked so bright, clear, soft and non-shiny in the morning! The face massage with REBALANCE made the same effect; my skin is so bright and vivid after the session. I haven't noticed this with any other face oil I have used before. I feel that my skin is clearer after I've been using the serum. My forehead usually has dry patches and the serum moisturizes dry areas while balancing more greasy areas. Overall, I'm absolutely in love with this product!
Excellent for dry, acne-prone skin
I have dry skin with lots of impurities and REBALANCE has made a huge difference to my skin. The dryness is gone and my skin is so much clearer than before. I haven't got any new breakouts and pimples after I started using this oil serum.