Nature-Driven Skincare for a Sustainable World Creating Skincare Together With Nature
Sustainability is one of our core values that thrives us in everything we do. We exist not only to have a positive impact on your skin but also to have a positive impact on the world. From wildcrafting and growing herbs to sourcing, packaging and distribution, every aspect of our business is driven by social and environmental responsibility. Although this method of operation takes more time and effort, we think it is the only way to do sustainable business.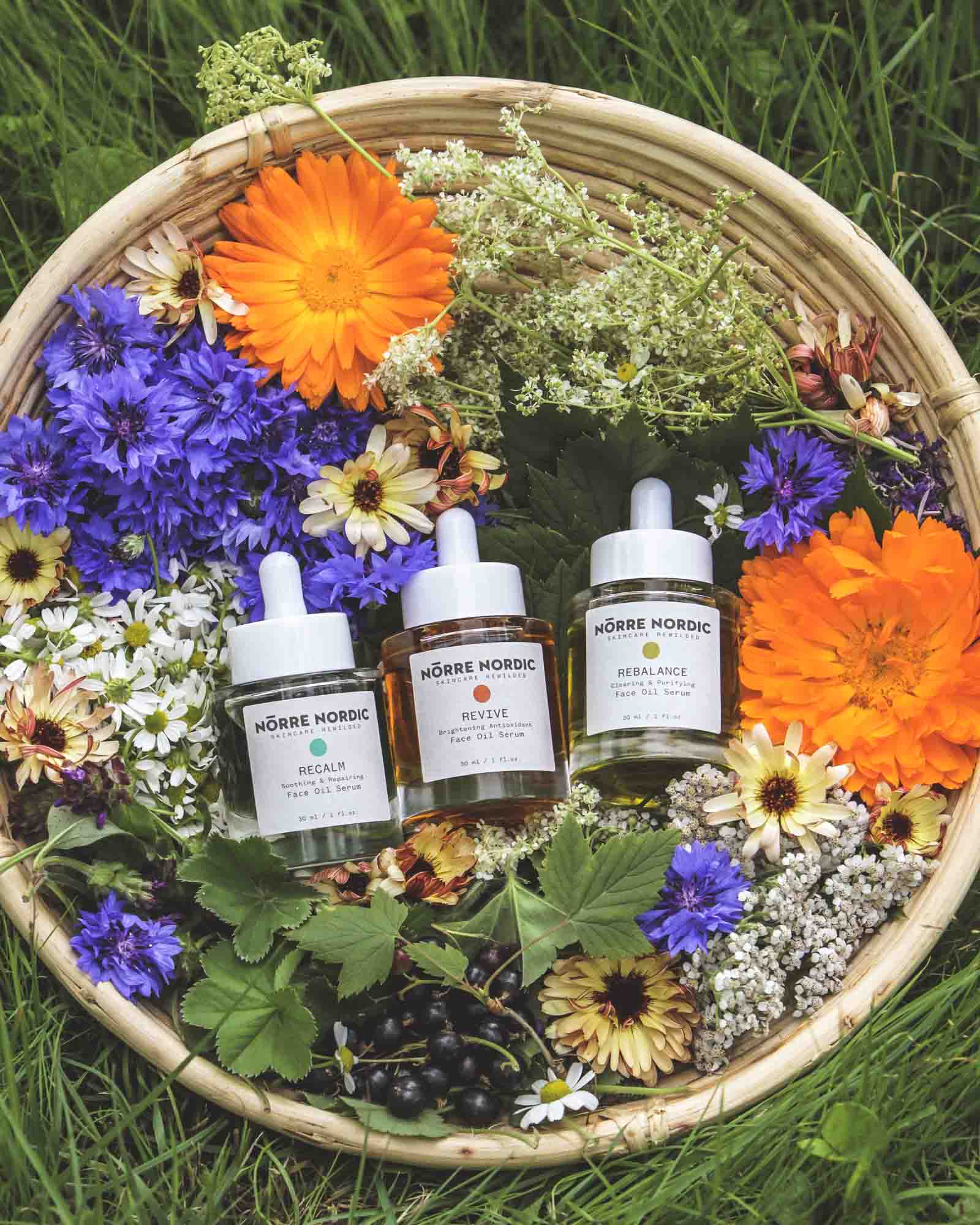 SUSTAINABLE SOURCING & TRANSPARENCY
Origin of our ingredients
To reduce our CO2 footprint, we strive to use only local or European ingredients: 62% ingredients are sourced locally from Finland. We use only self-harvested wild herbs and we grow plants and herbs in our own organic herbal garden. Most of our berry seed oils are from Finland. 96% of our ingredients are sourced from Europe, with only one ingredient, blue tansy from Morocco, coming from outside Europe.
We use only 100% natural ingredients that are free from synthetic preservatives, additives, fragrances and artificial colors. We trace our supply chain back to the source and use certified and organic ingredients whenever possible.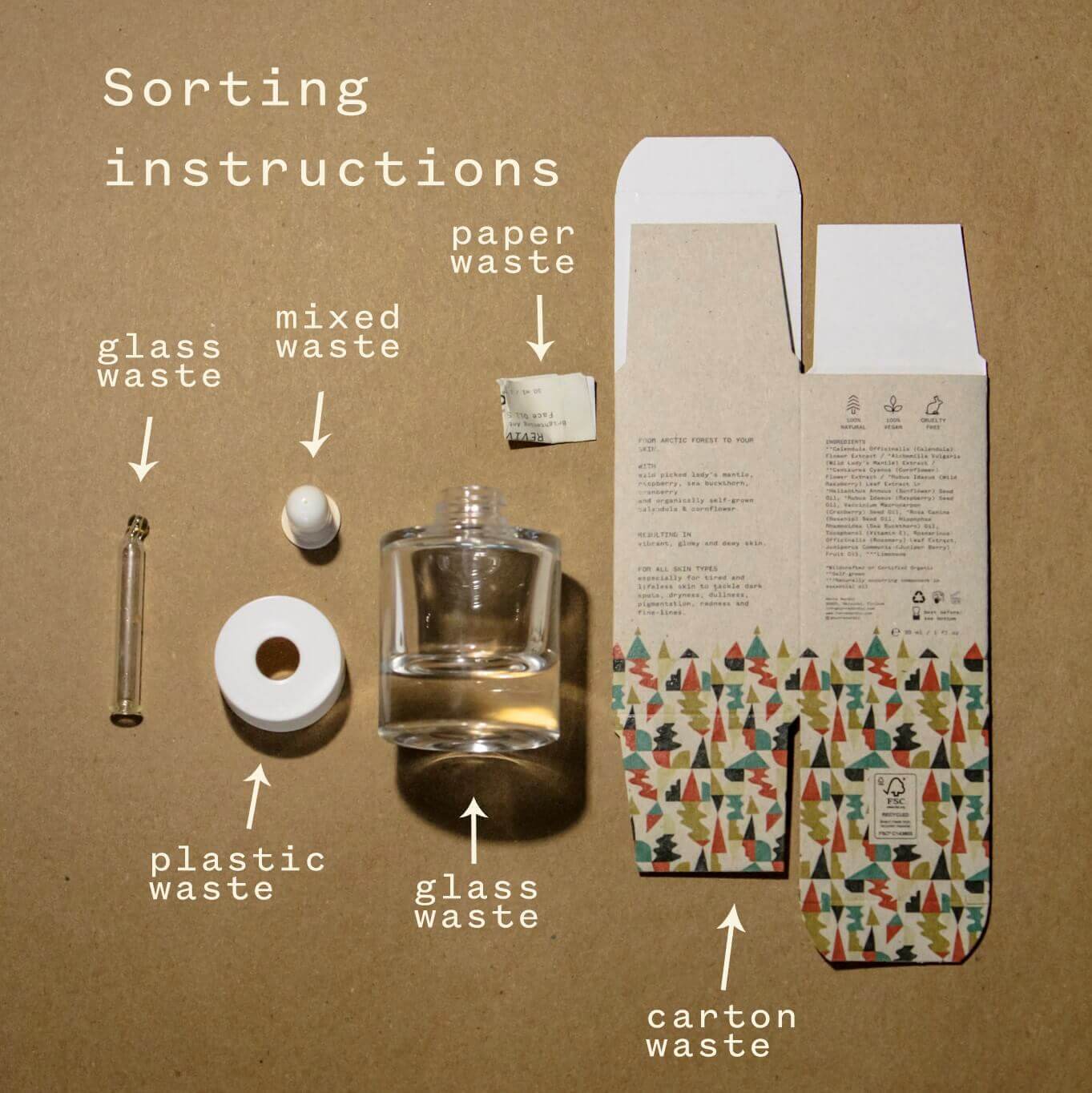 PACKAGING & SHIPPING
100% plastic free: Using recyclable & eco-friendly materials
Our facial oils come in recyclable clear glass and the dropper components can easily be separated and recycled.
Our carton box is made from sustainable FSC-certified carton, which can be recycled in carton waste.
As we take care to minimize our plastic consumption in everything we do, we ship our orders to our customers filled with Finnish wood wool made from Finnish aspen, and we use only certified eco paper tape. We ship our packages 100% plastic-free.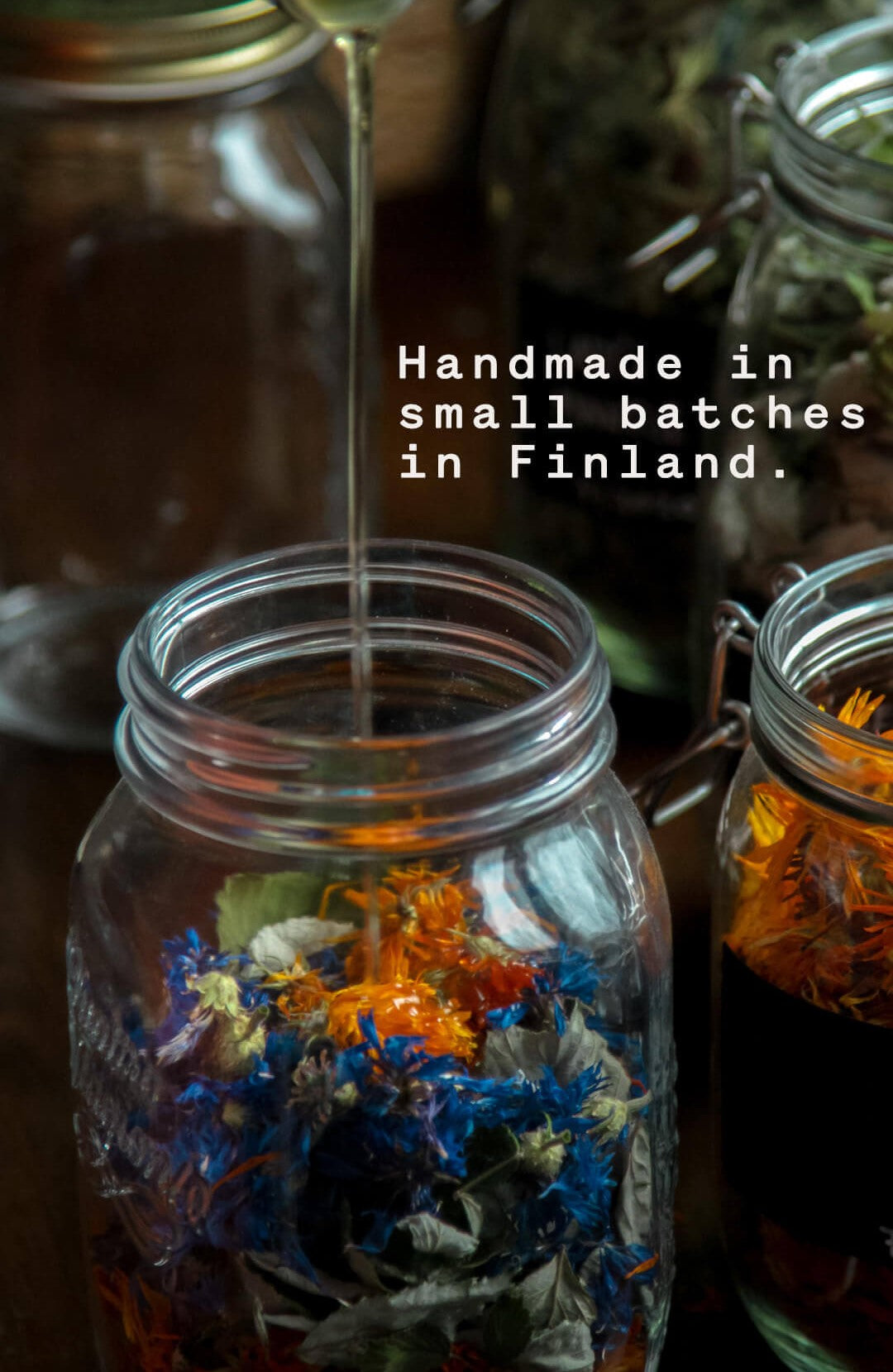 SMALL BATCH PRODUCTION
Always fresh & effective
Nörre Nordic products are made in our in-house laboratory by hand. For an uncompromising quality, not a single production step is outsourced to third parties during the development and production process.
As we make all our products by hand ourselves, we can guarantee that our products arrive to our customers fresh and effective. We make our products by hand in small batches, so we can avoid over producing.
By having our own herbal garden and wildcrafting herbs by ourselves, we are able to infuse them fresh into our oils to achieve the most potent and effective products to offer.
Supporting biodiversity
We are a nature-driven business
Instead of creating skincare from nature, we create skincare together with nature – we call this skincare rewilded. We are committed to protect the biodiversity of wild nature by using sustainable and wildlife friendly practices in every aspect of our business. We are a nature-driven company that produces natural skincare that actually gives back, rather than take, from nature.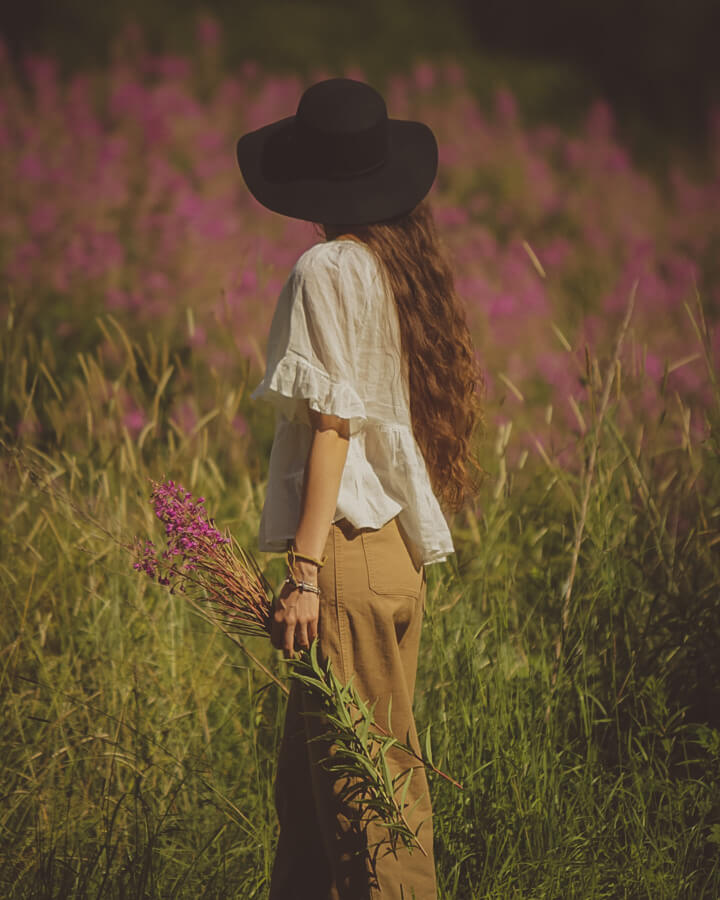 Responsible wildcrafting
Honoring our pristine nature
We use only responsible wildrafting methods when we pick herbs from pristine nature. Herbs that have been wildcrafted are ones that have been picked from their native habitats, which include forests, meadows, fields and uninhabited regions of land. They are free of additives like pesticides and fertilizers. By avoiding overharvesting and taking care to preserve natural regions to encourage further growth, responsible wildcrafting upholds the time-honored practices of conserving naturally grown herbs. We never overharvest as we always leave most of the wild plants in the ground ensuring their further growth in the future and continuous habitat for wildlife.
We harvest our plants only from purest areas. No herbs are gathered near cities or industrial areas, or close to any major road.
Responsible gardening
Using only organic and regenerative gardening practices
Having our own herb garden is something we take great pride in, and we believe it contributes significantly to what makes us unique.
Healthy dirt is the basis for clean skincare. Our organic soil ensures that our plants thrive from the time they are sown until they are harvested. Plants are only as strong as the soil in which they are grown. We joyfully adhere to our method because skipping these processes would save money and effort at the expense of the quality of our skincare.
We use only organic and regenerative gardening practices. There are no pesticides, herbicides or fertilizers allowed in our garden. When it comes to harvest time, we never remove all the plant material from our garden. We always leave some of our plants in the ground ensuring continuous habitat for wildlife.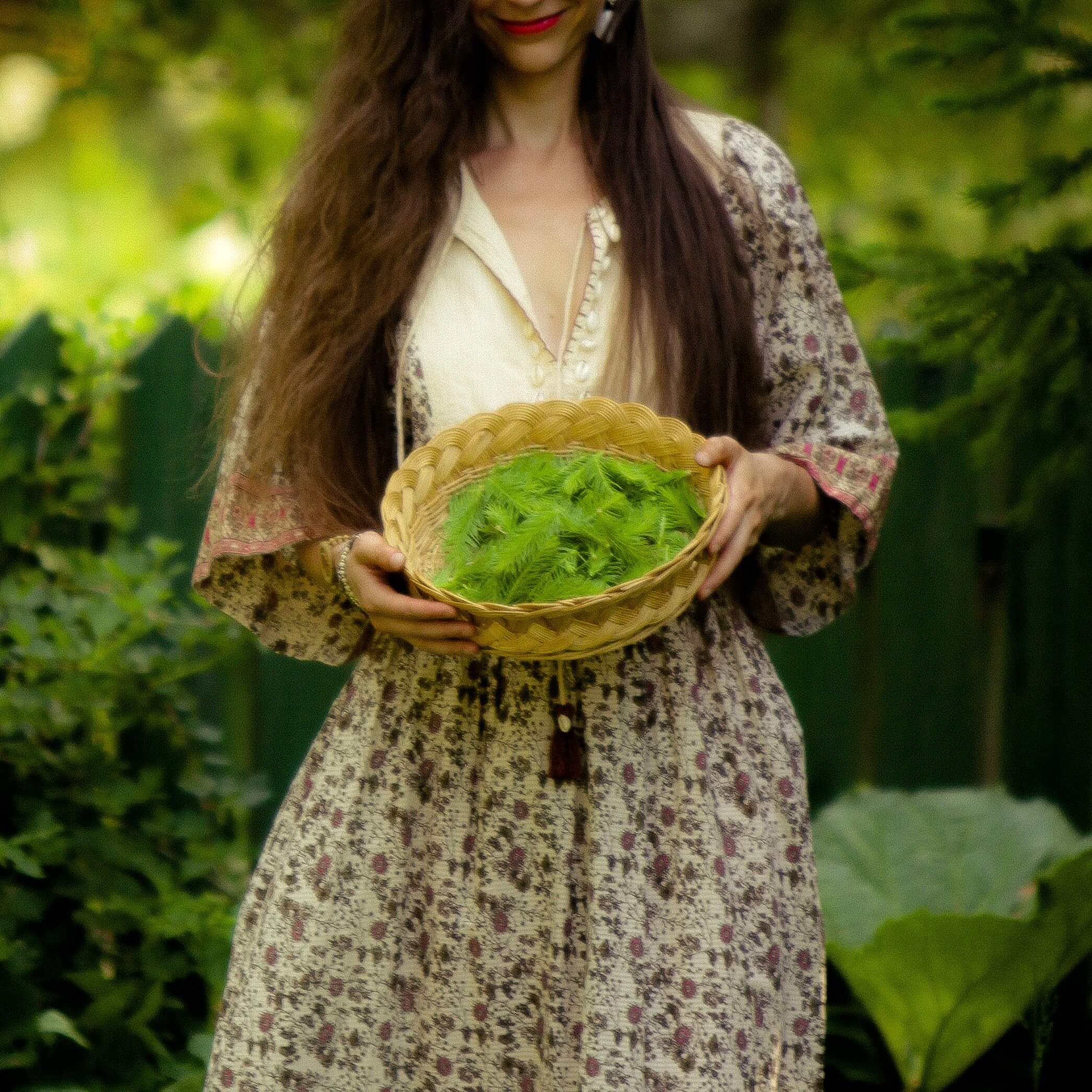 Slow beauty - buy less but better
Our philosophy
Our approach to skincare is based on providing multifaceted performance and the idea that if one product offers a variety of advantages, fewer products are required, fewer are manufactured, and less natural resources are used.
Slow beauty is about investing products that have been thoughtfully handcrafted with sustainable practices and ingredients that have been carefully sourced. Using fewer, better products to reduce waste and wasteful consumption is our goal as a slow beauty skincare brand.
We encourage our customers to purchase beauty products with greater awareness. Additionally, we wish to provide ritualistic skincare products that encourage individuals literally to slow down from the fast-paced world around us.