What type of skin do i have?
And how do I care for it properly
Knowing your skin type is critical on finding the best skin care routine. And caring for your skin with products that work with it rather than against it is the key of getting the healthiest skin possible.
Main skin types
There are three main skin types; normal, oily and dry
One of these is the skin type you are born with.
Temporary "skin types"
Then there are temporary "skin types". These include sensitive, combination and acne-prone "skin types".
They are the effect of temporary unbalances caused by external factors. This means they can be treated and cured.
For example if your oily skin has temporarily become acne-prone, it must be treated as acne-prone "skin type". After the skin has healed and returned to its natural oily skin type, the treatment method can be changed to one that's suited for oily skin types.
Different skin types
and their properties
Figuring out which type your skin falls into means knowing the hallmarks of each one, so here they are.
Normal Skin
Normal skin is balanced, feeling neither dry nor oily. It is not prone to breakouts, flakiness, feeling slick or tight. Pores are generally small, the skin's texture is smooth, and it is less likely to be prone to sensitivity or blemishes. It heals quickly in the off chance it does get irritated or inflamed. Breakouts are rare and come and go quickly.
Small pores
Smooth and even toned
Neither dry nor oily
Free from skin blemishes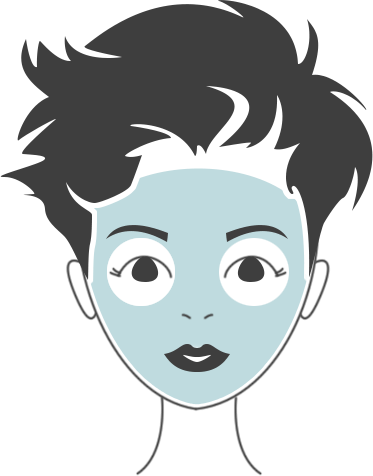 Dry Skin
Dry skin is a skin type where the complexion lacks oils, or lipids, so it takes on a more flaky, dry appearance. Dry skin is often thin and delicate and pores are small. You may also see scaly appearance, white flakes, redness or irritation, increased incidence of psoriasis, eczema, or dermatitis. Dry skin can feel tight and constantly uncomfortable - especially after cleansing. Dry skin gets red, and wrinkles and little fine lines appear easily.
The key to figuring out if you have dry skin has to do with how it feels in the morning. If you wake up with flaking or tautness, and you tend to feel like you need thicker creams to keep your skin feeling normal, you probably have dry skin. On the other hand, you might break out less or have fewer clogged pores than other skin types.
Note that specific products or environmental factors can also cause dryness, like harsh cleansers, artificial fragrance, and dry winter air. Even though these outside elements lead to temporary dryness, we recommend treating your skin like it's naturally dry, until it is back to normal.
Scaling, flaking, itchiness
Tightness and uncomfortable feeling
Barely visible pores
Fine lines and wrinkles appear easily
Skin may look dull and blotchy
Oily Skin
Oily skin is caused by an over-secretion of sebum, an oily substance our skin needs in order to function properly. Too much of this sebum can cause acne and too little can cause dry, cracked skin. Oily skin is often shiny and it's prone to clogged pores and breakouts. The pores are large and visible, but wrinkles may be less visible. Make up may wear off easily from oily skin.
Shiny
Prone to breakouts & blemishes
Less visible wrinkles
Makeup wear off easily
Visible and enlarged pores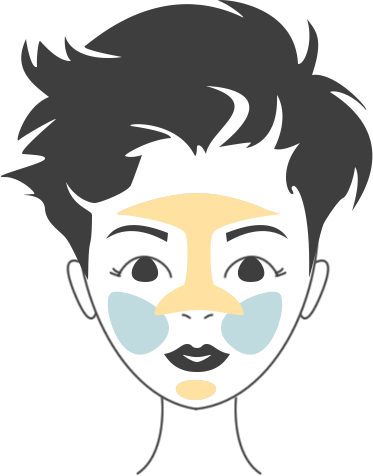 Combination Skin
Combination skin usually has oiliness in other areas and dry patches in other areas. Most common thing is to have oily and acne-prone skin on the T-zone of the face while the circumference of your face and cheeks are usually drier.
Oily patches
Dry patches
Medium to large pores
Flaking and breakouts appear at the same time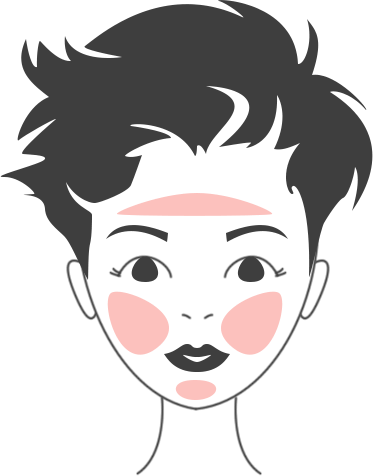 Sensitive or reactive skin
Sensitive skin is often referred to as a skin type, but you can have oily and sensitive skin, dry and sensitive skin or normal and sensitive skin. Regardless of which type of skin you have, if you have sensitive skin, it may be red, feel like it's burning, itching or dry. These symptoms may be related to having skin that is more vulnerable to external irritants and may be triggered by certain ingredients, like fragrance or acids, as well as environmental factors.
Redness
Burning sensation
Itching
Dry patches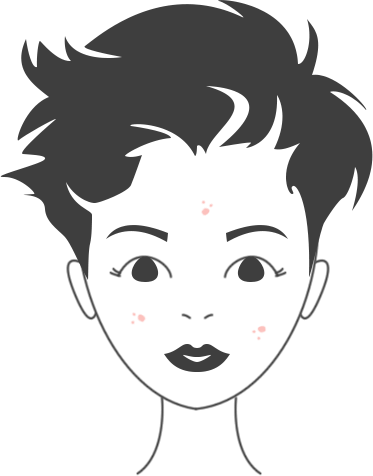 Acne- or blemish-prone or impure skin
Impure skin is often oily, shiny and has large pores. It shows black heads, pimples and tends to develop inflammation. This is because the sebaceous glands produce more sebum than in other skin types. Due to an unbalanced lipid and moisture mantle, impure skin often also reacts in a particularly sensitive way.
Oily
Shiny
Easily prone to whiteheads and blackheads
Large pores
Inflammation
May be reactive and sensitive
How to treat different skin types
And get your skin healthy again
Normal Skincare Routine
Although normal skin is able to tolerate a wide array of products, from acids to fragrance without reaction or irritation, you should skip harsh cleansers and choose a gentle cleanser instead. Perfect options are cleansing oil or milk or balm. Follow up with a water based toner and serum of your choosing. Want brighter and dewy skin? Try a vitamin C serum. Smoother skin? Look for products with alpha hydroxy acids. Finish up with a face oil or other moisturizer that will lock in the hydration and protect your skin from environmental stresses. With normal skin, you can try almost anything!

Perfect for normal skin from Nörre Nordic
REVIVE Brightening Antioxidant Face Oil Serum is perfect for normal skin, and the last step of your skincare routine. With its high antioxidants levels from arctic cranberry, raspberry and wild picked lady's mantle, REVIVE face oil protects skin against free-radicals, pollutants and photoageing caused by sunlight. Thanks to calendula, rosehip and seabuckthorn, it also has effective revitalizing and brightening properties as it promotes cellular renewal and increases brightness by tightening pores and reducing redness and puffiness making your skin glow!
Dry Skincare Routine
The best thing to do with dry skin, is getting rid of harsh, foaming cleansers that contain drying ingredients. The best cleanser option for dry skin is cleansing oil, milk, balm or cream. Don't use too hot water when washing - or don't use water at all! Follow up with hydrating toner to boost your skin hydration levels. Best way to add toner is adding it to your palm and gently pat it to your skin until fully absorbed. Repeat this as many times until your face feels properly hydrated. Finish up with super moisturizing face oil that locks the hydration in and brings essential fatty acids and protection onto your skin. Good quality face oil is crucial when treating dry skin. If you haven't yet used face oils, this is the time to incorporate it to your skincare routine.
Sensitive Skincare Routine
Avoid too strong cleansers! Skip gels and foaming cleansers and start using cleansing oil or cream instead. Follow up with mild hydrating toner without added fragrances, strong acids and too active ingredients. Seal up the hydration with very basic calming face oil that protects your skin with external irritants and strengthens your skin's protective barrier.

Perfect for dry, sensitive or irritated skin from Nörre Nordic
RECALM Soothing & Repairing Face Oil Serum is designed especially for dry, delicate and sensitive skin. With moisturizing Arctic lingonberry seed oil and squalane, RECALM helps to reduce water loss significantly and accelerate healing with high levels of omega-3 and -6 fatty acids resulting in moisturized and healthy skin. With calming and protecting herbs like chamomile, self heal and blackcurrant leaf, this face oil strengthens the connective tissue of the skin and maintains the skin's protective barrier and structural integrity.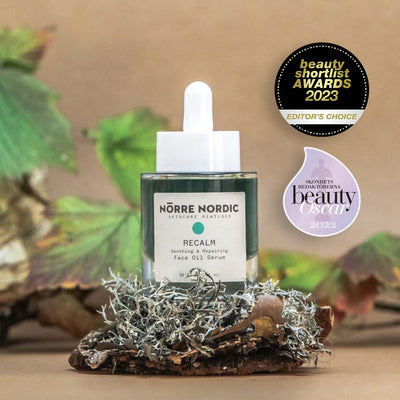 For sensitive, irritated and dry skin
71,77 €
View Product
Oily Skincare Routine
You should avoid products that strip off your natural protective oils from your skin, making your skin produce even more oil and sebum. For oily skin, the best option is double cleansing with a cleansing oil and cleansing milk. Even oily skin needs water based hydration, so follow up with balancing toner or essence. You can look up ingredients like salicylic acid. Finish up with lightweight, non-comedogenic face oil that balances your sebum production and seals the hydration into your skin. A few times a week you can use a clay mask that helps with excessive oil production and keeps your skin well balanced.
Combination Skincare Routine
Avoid harsh, too drying cleansers and choose cleansing oil or lotion instead. Add a hydrating toner to boost the hydration levels of your skin. Finalize the routine with lightweight facial oil.
Blemish-prone Skincare Routine
Harsh, soap-based cleansers and water that is too hot can disrupt skin's natural balance and exacerbate symptoms. Some skincare products and make-up are also comedogenic, meaning they clog pores and cause breakouts. Double cleanse your face using cleansing oil and lotion. Add balancing toner with salicylic acid. Finish up with balancing, non-comedogenic and lightweight face oil.

Perfect for oily, acne-prone or combination skin from Nörre Nordic
REBALANCE Clearing & Purifying Face Oil Serum contains natural salicylic acid from wild meadowsweet, pore tightening minerals from wild nettle and anti-inflammatory yarrow and fireweed. Together with GLA, omega-6 fatty acid found in blackcurrant seed oil, REBALANCE helps with controlling breakouts and alleviating the symptoms of acne, by reducing inflammation and skin redness. Rosehip, blackcurrant and raspberry seed oils are high in linoleic acid content (and their comedogenic-rating is 0!), so you can be sure that this face oil does not clog your pores. Squalane balances oil production, and reduces and prevents acne breakouts.
For oily, acne-prone and combination skin
71,77 €
View Product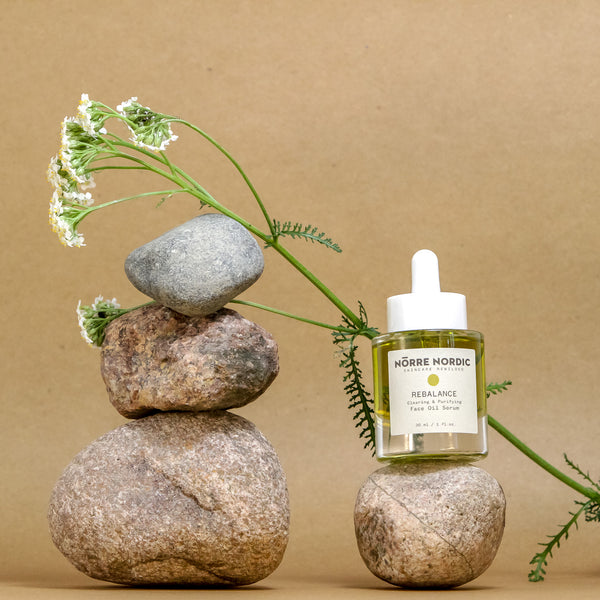 For oily, acne-prone and combination skin
71,77 €
View Product
For sensitive, irritated and dry skin
71,77 €
View Product